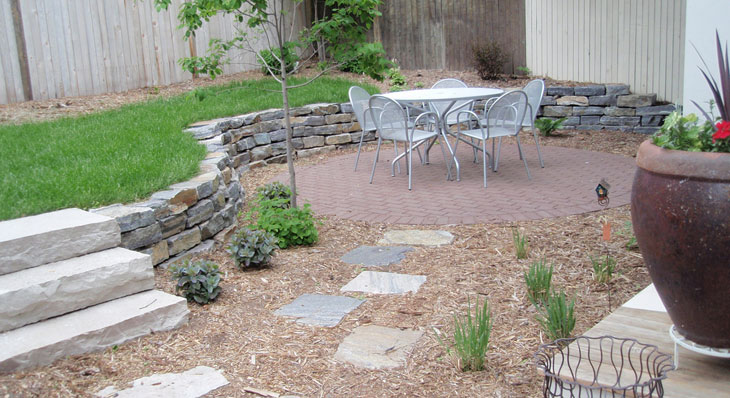 Does your garden need to be spruced up, or your patio replaced? Short on money? Not to worry, these patio tips are perfect.
Stepping Stones
Stepping stones are a cheaper alternative to a full patio as fewer slabs or stones are required. Not only is this cost effective, whichever colour or pattern you choose will brighten up your garden and create a pretty design feature.
Be Inventive
Instead of following the traditional route of stones or patio slabs as your base, why not be a bit more unique and adventurous? Railway sleepers could be just one suggestion. They are often available at scrap yards and auctions and can be incredibly reasonably priced! Not only would this save you money, it would mean you are contributing to the environment by recycling!
Levels
The use of different levels is a great way to make your patio area different, whether this height is achieved through different sized plant pots, stacks of stones or different plant heights in the borders. Stacked patio stones will also double as extra seating which is fantastic should you have guests over.
Consider Wood
As a cheaper alternative to concrete or stone slabs, wooden decking tiles are ideal! Not only are they less expensive in the first place, they are easily and quickly snapped into space, saving you money on laying stones. They are also easily removed and can be relaid, meaning you can change the positioning of your patio whenever you like, and can even take it with you if you move house.
Choose Carefully
If you do opt for a traditional slab patio, it is vital that you consider which stones may be best suited for you. In order to be as cost effective as possible, it would be sensible to choose low maintenance style stones, where little money would need to be spent on upkeeping them. Large flagstone patio areas bordered with gravel are a fantastic inexpensive solution as it requires very little money and is unlikely to go out of fashion and need updating.
Decorate
Decorating and accessorising your patio area is a quick and cheap way to make it more exciting. It can be as simple as adding a few colourful candles or cushions which are incredibly easy to change whenever you should wish. If your budget will stretch a bit further, a new set of garden furniture will really change the whole appearance of your patio area with very little effort.
Do you have any more patio ideas for those on a budget? Let us know in the comments below!
[Photo Credit: Field Outdoor Spaces]