Delivery Information Paving Superstore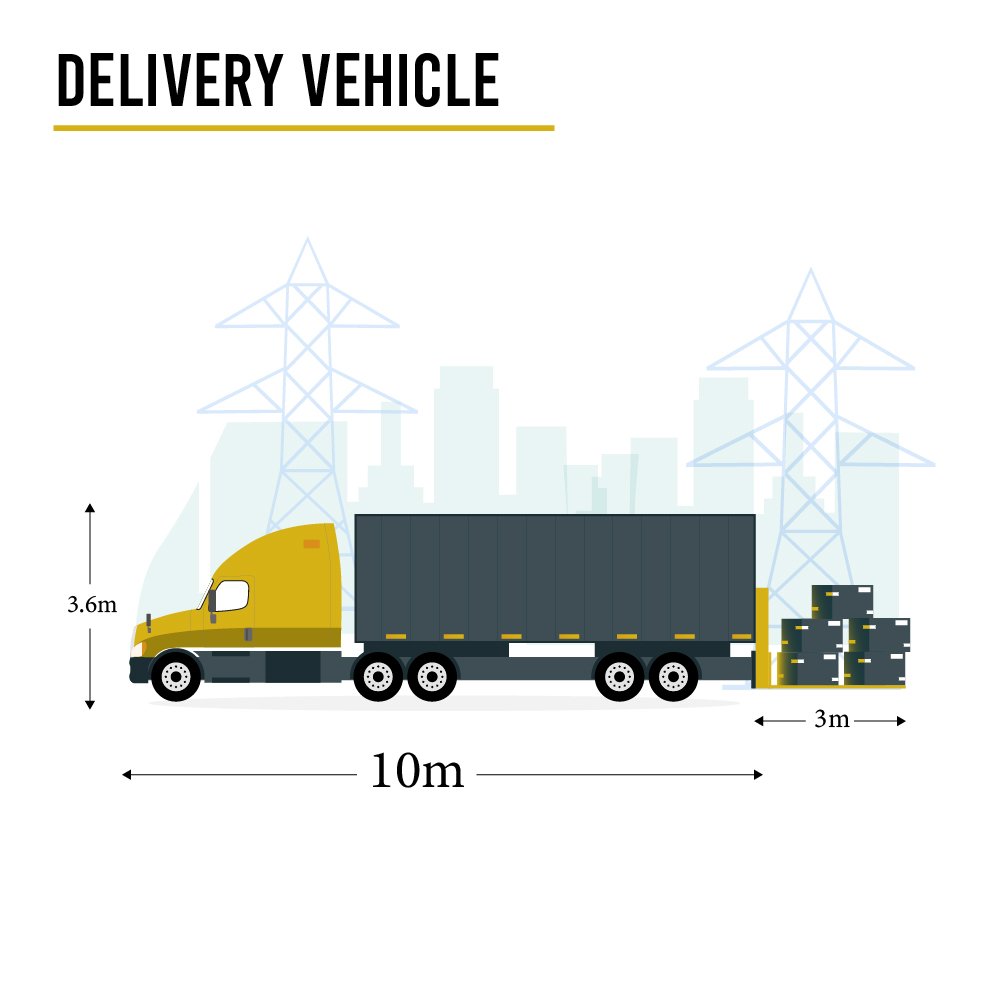 Delivery of heavy and bulky items such as paving, are delivered to kerbside on a large vehicle with tail-lift offloading. You MUST tell us at time of ordering if this vehicle is too large. We may occasionally be able to offer a smaller vehicle at extra cost on request.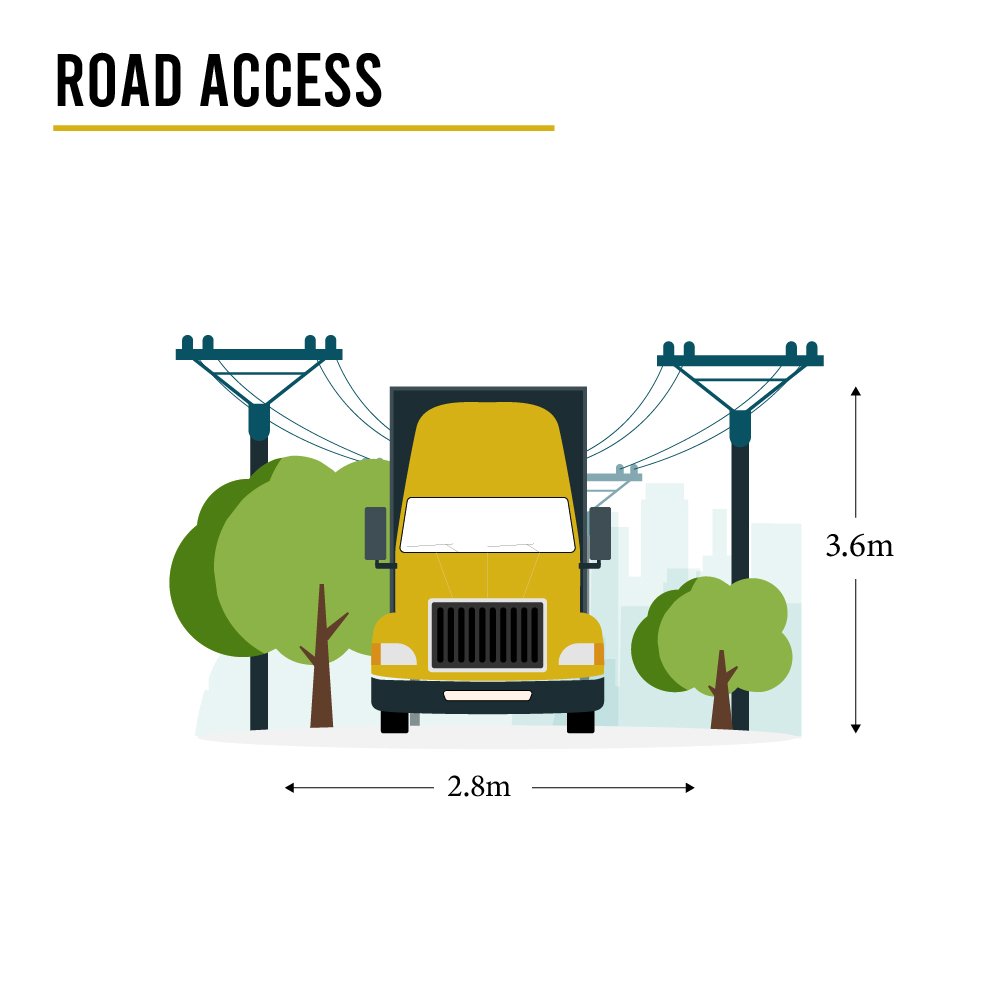 The roads to your address must have a hard surface and be accessible by a large delivery vehicle. The route and your delivery location must be free from obstacles such as overhanging trees or cables.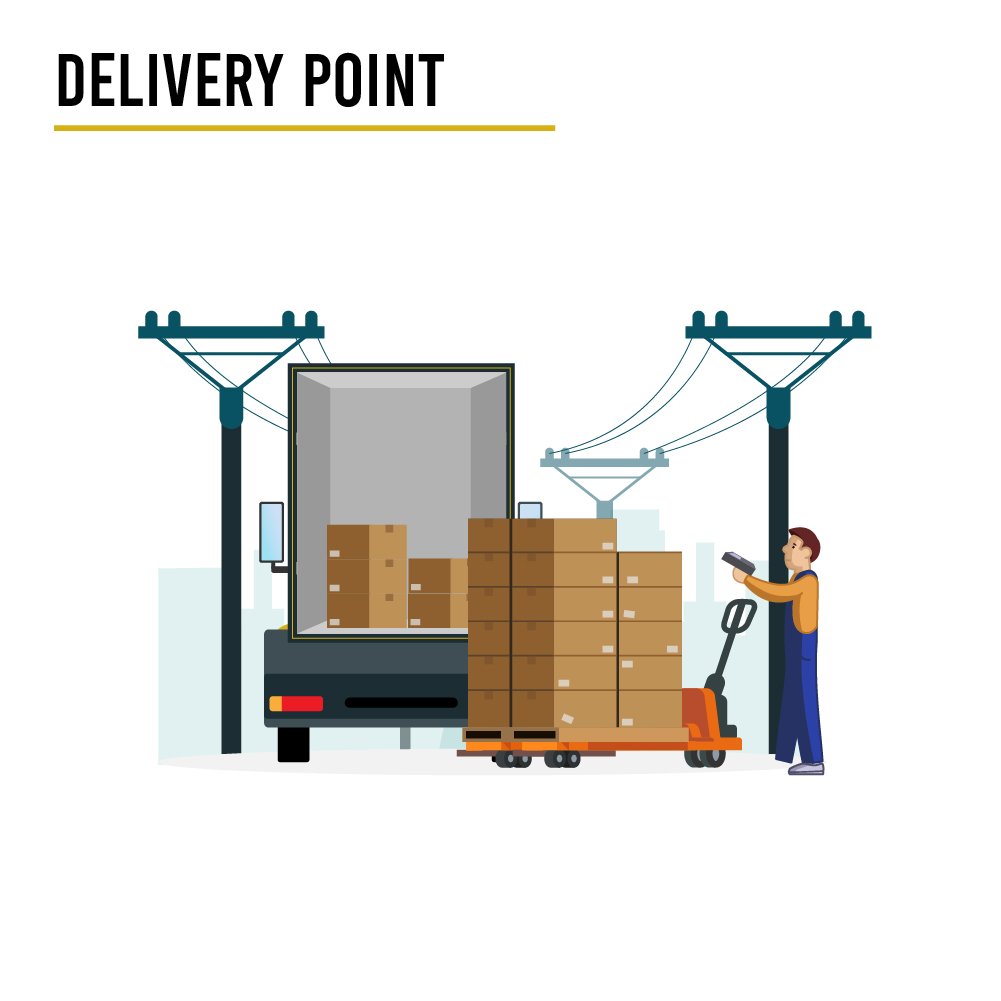 Your delivery point must be flat, level and a hard surface such as concrete or tarmac. Grass, earth and gravel are NOT suitable surfaces. Delivery is made to kerbside only using a manual pump truck.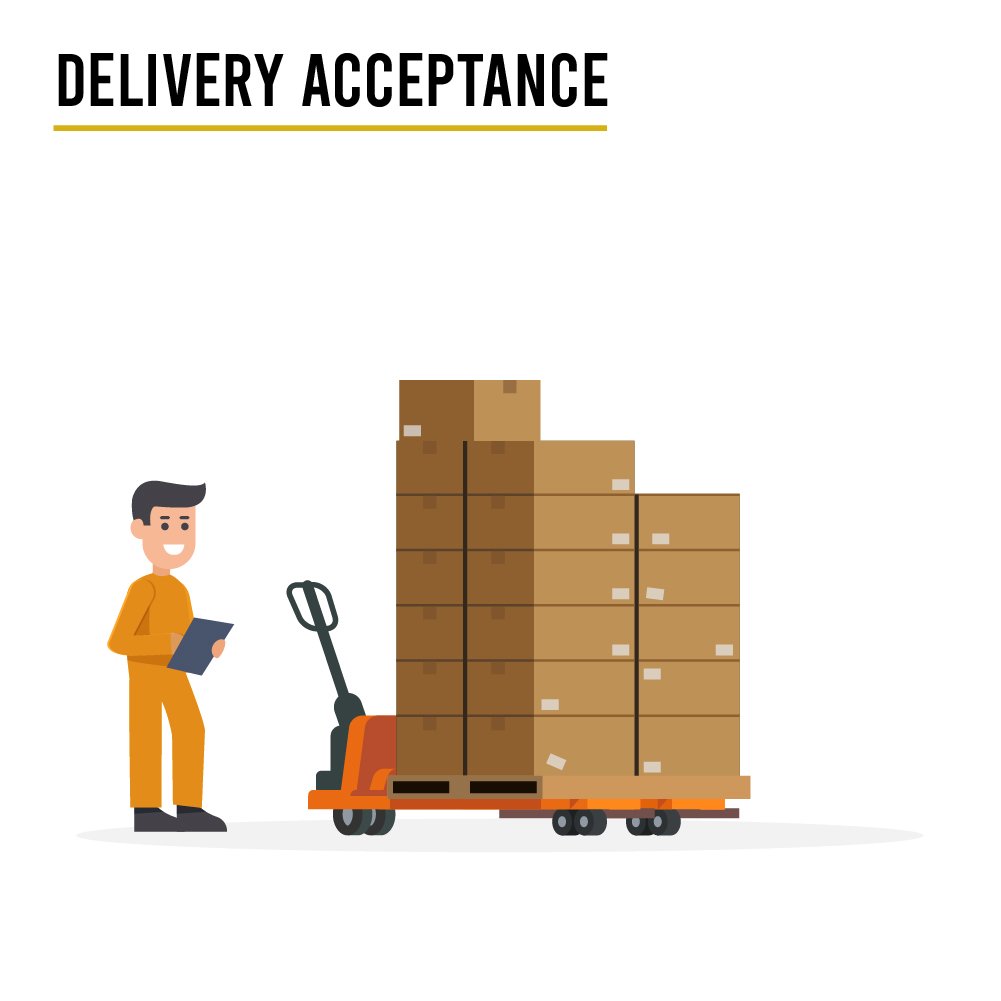 Inspect your goods upon delivery and record details of any obvious damages on the driver's documentation. In most cases, even if there are a few breakages, it is best to accept the delivery.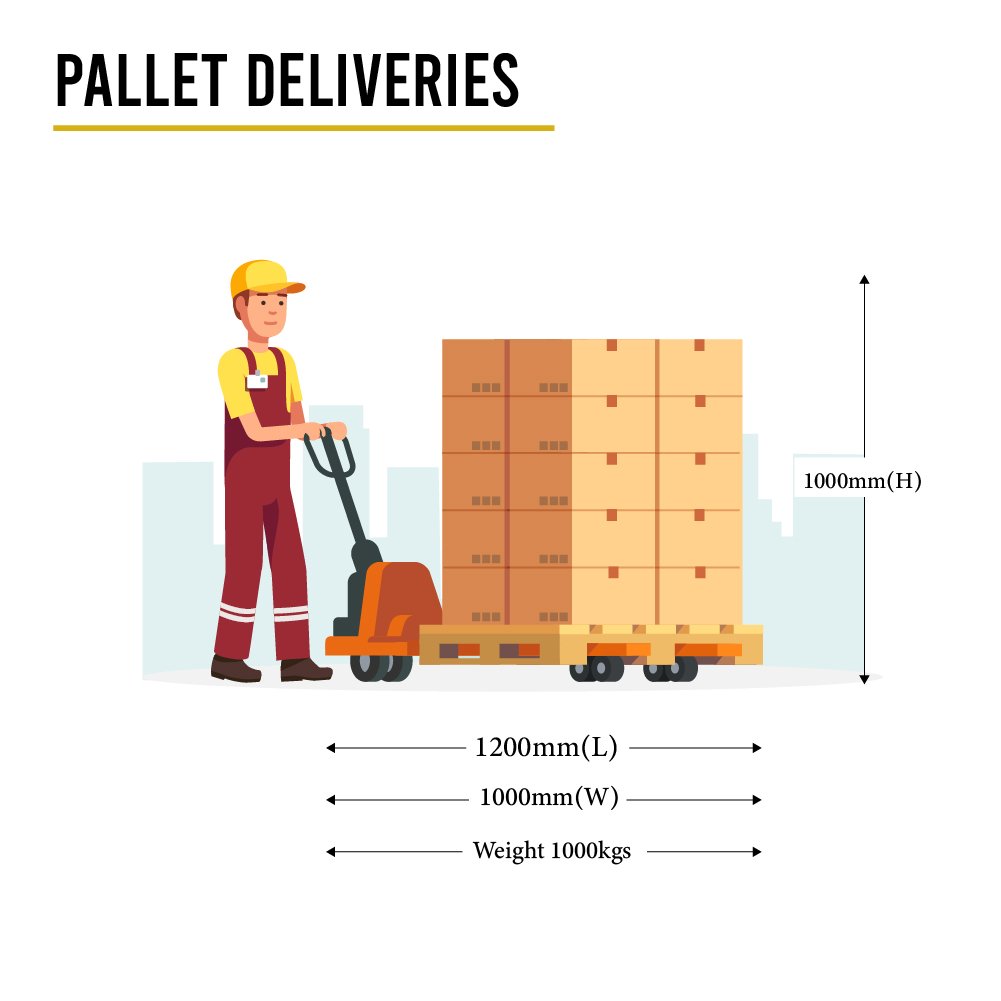 All paving pallets are heavy and sizeable. Once delivered, you will be responsible for moving the goods. Always ensure pallets are opened at the top, NOT the sides and remove the goods evenly from the centre of the pack to prevent tipping.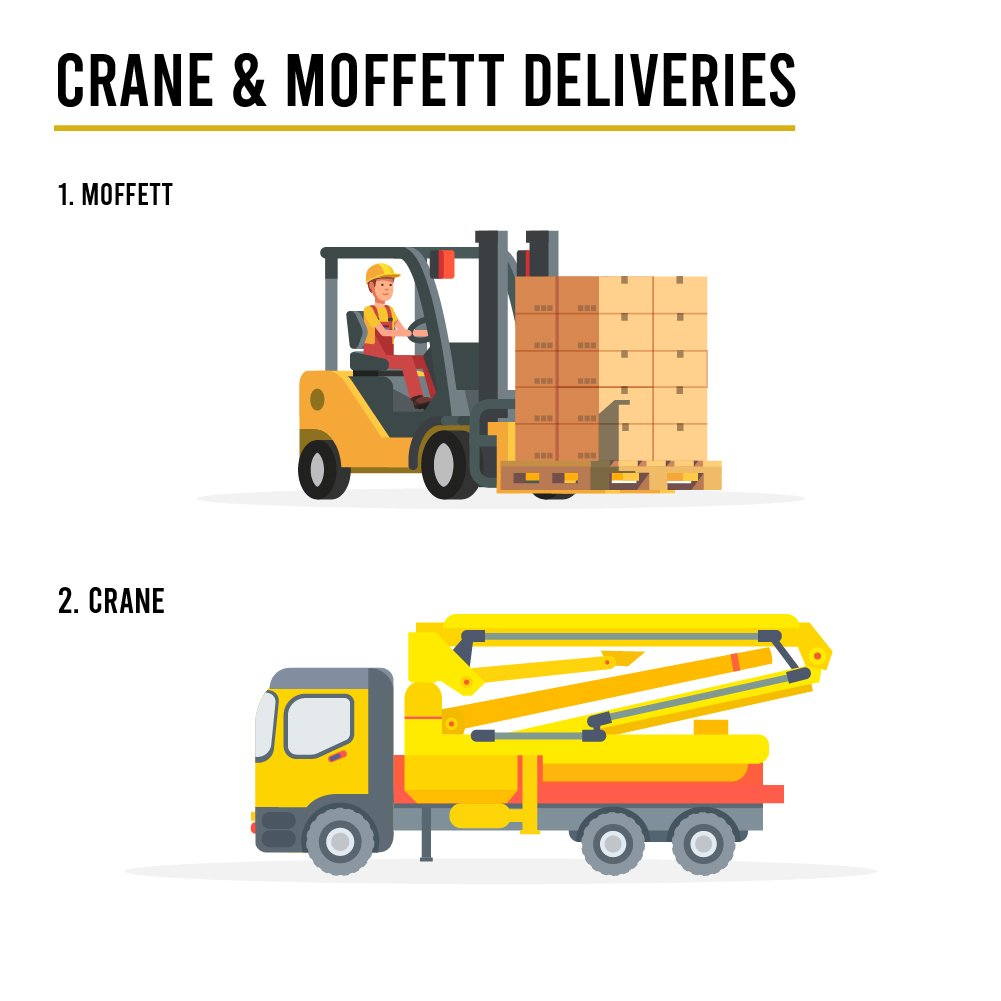 Although we do not use hi-ab (crane) or moffett (mini-forklift) deliveries as standard, we always attempt to upgrade larger orders to this type of vehicle when possible. Please contact us for further information.
Do you charge for delivery?
Delivery charges are already included in the price of the goods to all of the areas shown in the YELLOW zone on the map. In the BLUE and RED zones, a top-up delivery surcharge applies on certain products.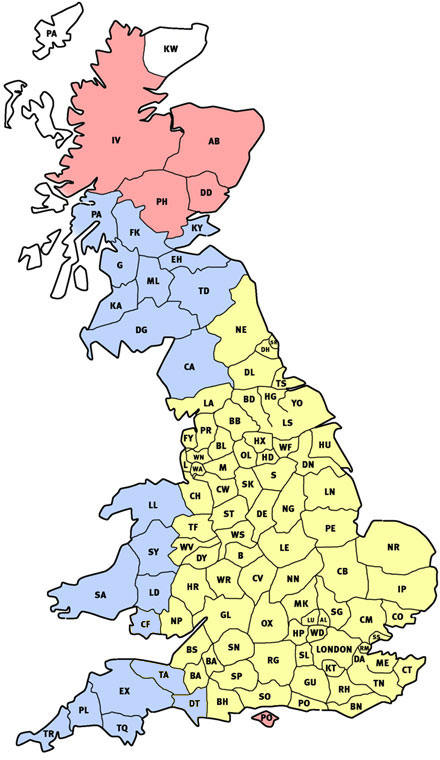 Yellow
Delivery included in price so no extra charges.
Postcodes: AL, B, BA, BB, BD, BH, BL, BN, BR, BS, CB, CH, CM, CO, CR, CT, CV, CW, DA, DE, DH, DL, DN, DY, E, EC, EN, FY, GL, GU, HA, HD, HG, HP, HR, HU, HX, IG, IP, KT, L, LA, LE, LN, LS, LU, M, ME, MK, NE, NP, NG, N, NN, NR, NW, OL, OX, PE, PO, PR, RG, RH, RM, S, SE, SG, SK, SL, SM, SN, SO, SP, SR, ST, SS, SW, TF, TN, TS, TW, UB, W, WA, WC, WD, WF, WN, WR, WS, WV, YO
Blue
Surcharge applies to some items. Usually £10 per paving pack, but will vary for other items
Postcodes: CA, CF, DG, DT, EH, EX, FK, G, KA, KY, LD, LL, ML, PL, SA, SY, TA, TD, TQ, TR
Red
Surcharge applies to most items. Usually £45 per paving pack, but will vary for other items
Postcodes: AB, DD, IV, PA (some exceptions apply)
Please contact us for prices to other areas. We would be pleased to quote on overseas deliveries if required.
How long does delivery take?
With most orders of paving, stone, composts, bark and rubber, delivery takes around 2-4 working days, based upon your order being placed before lunchtime on a working day.
Turf and sedum arrive the following day as the product is cut fresh on the morning of dispatch, so let us know when you need it and we will arrange to have the goods cut and delivered overnight to ensure they stay freshGarden buildings and structures range from around 7-30 working days.
All products on our website show an indicative delivery schedule, so it's best to refer to this for more product specific information.
Do you offer Express and Saturday deliveries?
Yes! We offer several different delivery options on most of our products to suit even the tightest of schedules!
Please find below the various options, their prices and the cut-off times for ordering:
Next day delivery
£20.00 per pallet
Order before 1030am the weekday before required delivery day (weekday deliveries only)
Pre booked delivery weekday
£2.00 per pallet
Order before 1030am at least two weekdays before required delivery day (weekday deliveries only)
Saturday delivery
£45.00 per pallet
Order before 1030am up to the Friday before delivery
Do you Guarantee Delivery Schedules?
Whilst we will make every effort to deliver in accordance with any booked delivery service and 99% of deliveries will arrive on time, we cannot guarantee a delivery schedule and any failure to deliver on a specified day or time will not be a breach of contract. Will will be unable to offer any compensation or cover any direct costs of delays by our third-party haulier. Do not arrange for your contractor or any equipment hire until your goods have arrived and been checked.
How will I know when the goods will arrive?
Unless you have already opted for a premium delivery on a specified day, we will make every effort to prebook all orders for large items with you once they reach your local delivery depot. You will only hear from the delivery company once your goods have travelled through the delivery network to arrive with the depot closest to you and this may take a couple of days following the day you placed your order.
Do not worry if you do not hear anything for a few days as the delivery day is usually only booked once the local depot to you commences scheduling.
Will I know the exact time of delivery?
Our trusted hauliers will usually deliver anytime between 8am and 6pm on your chosen delivery day. Some of our hauliers will provide tracking, however some of them do not, so unfortunately, we can never guarantee an exact time.
If you prefer, there is always the option to upgrade your delivery to an AM service, for an additional charge if this is more convenient for you.
Will I need to be at home to receive the delivery and will the driver require assistance?
Do I need to be in?
We do advise that you or a representative are on site upon arrival of delivery just in case the driver experiences any difficulties finding or accessing your property. This way the problem can quickly be resolved at the time instead of the driver potentially having to come back on a different day which will incur costly re-delivery charges.
In saying this, it is not mandatory that you are home for delivery and we can request your goods are left without signature if preferred. It is important to note however, that goods are left entirely at your own risk and we advise you to check your delivered items and report any problems to us as soon as possible, but within a maximum of 7 days. If the driver encounters any problems accessing your property or leaving the goods in a safe position whilst you are not at home, he/she may choose to abort the delivery and redelivery arrangements will be at your cost. In all cases, the driver will need to offload the goods from the vehicle quickly and soon after arriving at your property. Any delays preventing him/her from doing so will incur costs for waiting.
Will the driver require assistance?
More often than not, the driver will manage the delivery without a hitch. However in some circumstances, the driver will need assistance. For example:
Heavy pallets - On occasion, with natural stone paving especially, anticipated weights may vary due to the density of the stone and it may not be known in advance that goods are heavier than expected. However this is very unusual and occurs very infrequently. In these cases, the driver may need you to manually assist in taking some of the material off the pallet. Alternatively, if we have already alerted you on the website that goods are extra heavy, please ensure the stated advice for the specific product has been followed, for example, you may be asked to provide machinery on site or contact us for a specialist vehicle quotation.
Access restrictions - In the case that there are access restrictions, for example a car is blocking the dropped kerb where offload would need to take place, the driver may ask you to, if it is yours, move the vehicle, or contact the neighbour that it may belong to. If some of the roads leading to your property are not suitable for a large 18 tonne vehicle, please notify us of the directions the driver should take to gain access.
Directions - Sometimes the driver may need assistance in finding your property, so he/she may call you to ask for guidance. As mentioned above, being on hand to offer such information could well help avoid the driver needing to attempt redelivery on a different day, which will subsequently mean additional charges for yourself.
Will all goods arrive together?
As a general rule, all large goods produced by the same company/ brand will arrive as one delivery and goods from different companies will arrive separately. Small items such as sealants, paints and mortar products will always be sent out separately on a smaller courier service.
Don't panic though, if there are parts of your order that are due to come separately, we will always aim to let you know.
Should I Inspect the Goods Whilst the Driver Waits?
Yes, it is best to open the plastic wrap and examine the goods prior to signing your acceptance of them arriving in a satisfactory condition. If you have damages, ensure this is recorded on the driver's docket / device and report to us immediately. If you are unable to check the goods whilst the driver waits, please sign as 'possible damage'.
What happens if I have Breakages?
Due to the nature of the goods and the distance they have travelled, you may encounter a couple of broken slabs. In the majority of cases, these may be used for the smaller cut pieces you will need for your project. It is usual practice to allow 10% extra over and above your calculated requirements for the project and this allows for offcuts. In the majority of cases, any broken slabs will be part of this 10% calculation. If you have a large quantity of breakages, please notify us within 7 days following delivery via email and with clear photographic evidence, ideally showing the goods damaged within their packaging. We will look to replace or refund you for the damages.
Can I have the Goods delivered onto my Driveway?
As standard, your goods will be delivered kerbside (on the road adjaent to the kerb). The driver at his discretion and with your permission, may attempt to move the goods closer to your property. In all cases, the ground must be level and firm such as tarmac or concrete.
For larger orders it may be possible for delivery to be made on a vehicle with crane or mini-forklift which will often enable offloading onto your property. We will discuss this with you if it is a feasible option.
Do All Items Arrive on a Large Lorry?
No, smaller items such as jointing compound or sealer will come by a standard courier service van. Some items such as base aggregates (sharp sand, cement etc) will arrive on a vehicle with crane offload.