Paving Superstore Delivery
Do you charge for delivery?
Delivery charges are included in the price of the goods with the exception of some areas where a top-up delivery surcharge applies per pack. Please refer to the map below for more information.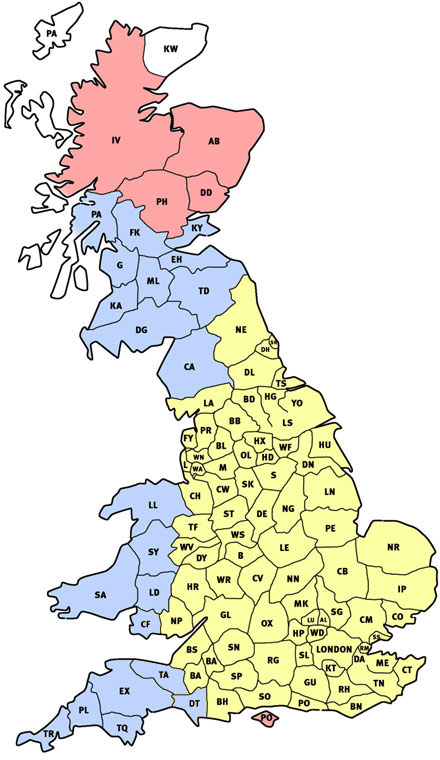 Please contact us for prices to other areas. We would be pleased to quote on overseas deliveries if required.
Yellow - Delivery included in price so no extra charges.
Postcodes: AL, B, BA, BB, BD, BH, BL, BN, BR, BS, CB, CH, CM, CO, CR, CT, CV, CW, DA, DE, DH, DL, DN, DY, E, EC, EN, FY, GL, GU, HA, HD, HG, HP, HR, HU, HX, IG, IP, KT, L, LA, LE, LN, LS, LU, M, ME, MK, NE, NP, NG, N, NN, NR, NW, OL, OX, PE, PO, PR, RG, RH, RM, S, SE, SG, SK, SL, SM, SN, SO, SP, SR, ST, SS, SW, TF, TN, TS, TW, UB, W, WA, WC, WD, WF, WN, WR, WS, WV, YO
Blue - Surcharge applies to some items. Usually £10 per paving pack, but will vary for other items
Postcodes: CA, CF, DG, DT, EH, EX, FK, G, KA, KY, LD, LL, ML, PL, SA, SY, TA, TD, TQ, TR
Red - Surcharge applies to most items. Usually £45 per paving pack, but will vary for other items
Postcodes: AB, DD, IV, PA (some exceptions apply)
How long does delivery take?
With most orders of paving, stone, composts, bark and rubber, delivery takes around 2-4 working days, based upon your order being placed before lunchtime on a working day. Occasionally some paving orders can take up to 10 days, therefore please contact us to confirm delivery schedules if you are working to a timescale.
Turf and sedum arrive the day after harvesting, so let us know when you need it and we will arrange to have the goods cut and delivered overnight to ensure they stay fresh. Garden buildings and structures range from around 7-30 working days.
Do you offer Express delivery?
Yes – we can offer a next day delivery service on a range of items for a small additional fee. Orders ideally need to be placed before 1030 am, but please contact us if you are outside this time as we may still be able to help.
Do you offer Saturday delivery?
Yes – we can often offer Saturday delivery on a range of items, although it is often better value to consider a weekday delivery at a specific time to suit. Please contact us to discuss.
How will I know when the goods will arrive?
With the exception of small goods such as sealants, paint and paving mortars which are sent without prior notification via parcel carrier, we will make every effort to prebook all large product deliveries with you by the delivery company for a day that is convenient with you. If you book an Express or Saturday delivery, these will not need to be booked in again.
Will I know the exact time of delivery?
The transport company will call to book in a convenient delivery day with you but delivery can be between 8am and 6pm and we will not be able to advise an exact time of delivery. There is an upgrade available for an AM delivery for a small surcharge which means delivery will be before 12pm.
What size of lorry is used for delivery?
Our standard delivery service uses large 18 tonne vehicles – about the size of a large removal lorry. The dimensions of the vehicle are approximately: L9.9m x W2.5m x H3.6m If this is too large, let us know at the time of placing your order as we can often offer a smaller 7.5 tonne vehicle. The dimesions of this vehicle are approximately: L7.10m x W2.4m x H3.2m.
In all cases, the vehicle must have clear access to your property and there must be no restrictions to prevent offloading. The goods will be unloaded from the back of the lorry using a tail-lift (a platform that lowers down). The pallets are then rolled off the vehicle, therefore it is very important that the ground is level and hard such as tarmac or concrete. Grass, compacted soil and gravel are not suitable areas for unloading. It is important to note that the goods will usually be left kerb-side as the delivery company will not be able to take the large delivery vehicle onto your driveway due to the risk of damage to your property.
Please be sure to advise us in advance if you foresee any problems with the delivery as there will be costly redelivery fees if the delivery company has to make a further attempt to deliver as a result of potential problems not being reported in advance. The photographs below provide an indication to the size of vehicle used.
With large orders comprising several pallets, we will always look to deliver on a lorry with a crane/ hiab offload or a moffat (mini-forklift). We will advise you in advance if your goods will be delivered this way. This type of delivery will usually be made on an articulated vehicle weighing around 22 tonnes and measuring often as much as 16 metres in length.
Other delivery options are often available for difficult delivery locations, so please let us know in advance of any delivery restrictions.
Will I need to be at home to receive the delivery and will the driver require assistance?
We always advise you or a representative to be at home to receive the goods just in case the driver encounters any difficulties with parked cars blocking the way for example. If you are at home, this kind of problem can usually be resolved at the time. Also, some packs of paving can be heavy and it is not always possible to know in advance, especially with natural stone which can vary in weight. In these situations, it may be necessary for you to assist the driver with offloading some of the goods manually. If this will cause you any difficulty, please let us know in advance.
Will all goods arrive together?
As a general rule, all goods produced by the same manufacturer will arrive as one delivery presuming they have been ordered at the same time. Occasionally exceptions to this rule will occur, however we will advise you of this in advance. All small items such as paving sealant, paint and mortar products are sent via a separate courier service.
Will you deliver into my driveway or my back garden?
We offer a kerbside delivery as standard, however the driver may be able to move the pallet closer to your property but this depends on the ease of access and is at the discretion of the driver. The hand trolley will not wheel over gravel or soft ground.