Global Stone Paving

Porcelain 'Station' Iron

PAVING SLABS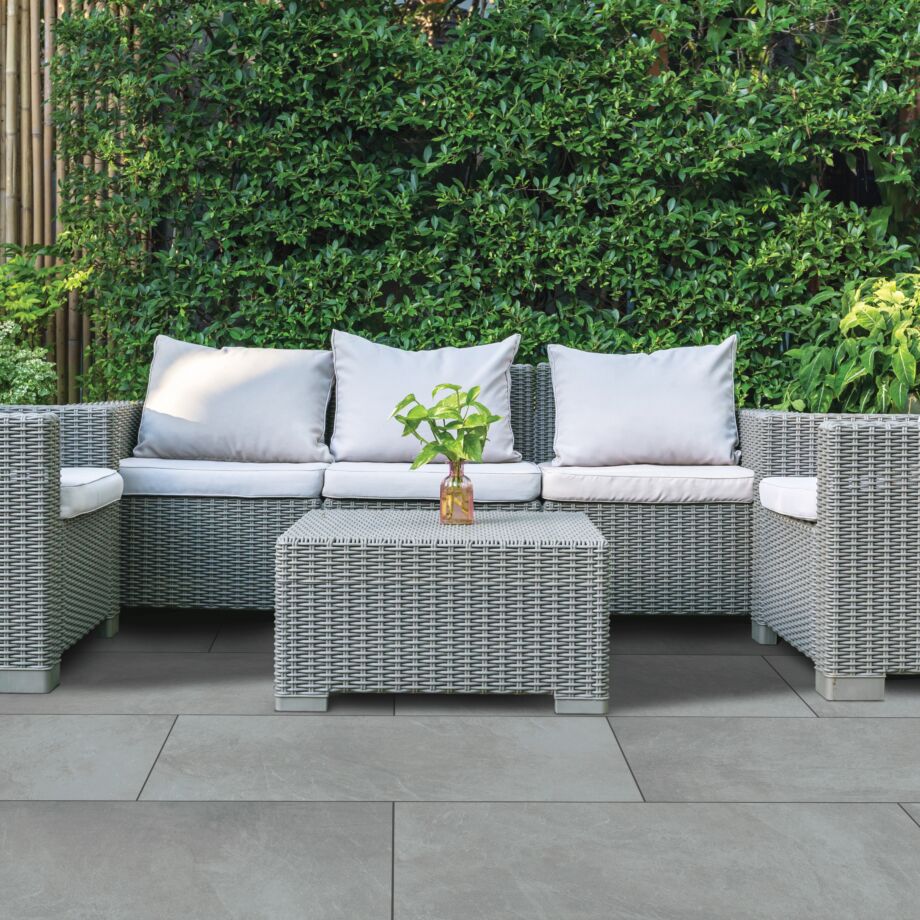 Split the pack
If you don't need a full pack of paving we can split a pack for you, give our team a call today or speak to them on live chat for more information.
Product Description
Global Stone Porcelain paving collection offers a clean contemporary feel to any garden or home project. Low maintenance tiles, easily cleaned with a colour that will not fade and suitable for inside or outside use, these hard wearing tiles are a stylish addition to any design. Iron is a warm, mid grey colour with subtle grey mottling.
Brand Information
Global Stone is an industry-leading supplier of premium natural stone paving. The company takes pride in selecting all of their natural paving by hand to ensure that it is always of the highest quality. Selected by experts, their stone is used by architects, landscapers, gardeners, designers and homeowners across the country. Global Stone believes in providing their customers with a beautiful variety of stone products that look good today, tomorrow and for years to come. Their product range has grown from a simple collection of paving options to cobble sets, circles, features, fountains and benches in a spectrum of stone types and styles.
Material Information
Porcelain and Vitrified Characteristics:
Porcelain and vitrified products are manufactured from naturally occurring aggregates, cement and binders, all of which are subject to colour and texture variation. Variation in colour and dimension may occur between batches of the same stone, although this type of material is relatively consistent in colour tone. Some manufacturers include the pointing allowance in the individual slab sizes whereas others include the pointing allowance in the overall pack coverage and as with all paving materials, dimensional variances may occur. The product images shown are as accurate as photographic processes allow and may appear differently in accordance with lighting conditions and screen calibration in addition to the natural variation occurring between batches. Images may not be a true representation of a particular product size, use or laying pattern. Descriptions provided offer a combination of the manufacturer's and our own opinion of the product's features.
Porcelain and Vitrified Description:
Porcelain and vitrified paving is a manmade paving material, constructed from naturally occurring kaolin clay materials and minerals such as quartz and feldspar which is then fired at 1200 Celsius to offer an extremely hard-wearing and low-maintenance paving product suited to both indoor and outdoor applications. Its low water absorbancy means it attracts very little residue or algae, but regular care and maintenance is requied for surface grime and dirt. Vitrified products are lightly textured to improve slip resistance and the dimensions are more accurate than those seen with natural stone paving.
Porcelain and Vitrified Colours:
The colours of this material are uniform with a subtle, evenly distributed variation. Many of the products offer the same colour palette as its natural stone equivalent without the irregular characteristics found in the natural stone paving material making it especially suited to clean, contemporary design schemes.
What's the Difference between Porcelain and Ceramic Paving?
The appearance of ceramic and porcelain paving is quite similar, however the manufacture and performance of each varies. The key differences are:
Porcelain is made from a finer clay than ceramic and is fired at a hotter temperature for a longer period of time. This makes it a harder paving stone
Porcelain is less porous than ceramic. Lower porosity means less cleaning
The colour patterns on porcelain are ink printed and penetrate through into the top layers of paving whereas ceramic paving has a colour pattern transfer laser printed onto the surface. This means the porcelain paving performs better against chips or scratches
Specifications
Product Name
Global Stone Paving_Porcelain 'Station' Iron-PAVING SLABS, 600x600-20mm (20.88sqm)
Global Stone Paving_Porcelain 'Station' Iron-PAVING SLABS, 1200x600-20mm (21.60sqm)
Global Stone Paving_Porcelain 'Station' Iron-PAVING SLABS, 900x600-20mm (21.6sqm)
SKU
SIPE6060
SIPE6012
SIPE6090
Manufacturer
Country of Manufacture
Pack Contains
Pack Coverage
20.88
21.6
21.6
Unit Number
58
30
40
Colour
Iron
Iron
Iron
Brand
Global Stone
Global Stone
Global Stone
Range
Station
Station
Station
Thickness
Calibrated, 20mm
Calibrated, 20mm
Calibrated, 20mm
Unit Size
600 x 600
1200 x 600
900 x 600
Material
Porcelain
Porcelain
Porcelain
Surface
Flat - Lightly Textured
Flat - Lightly Textured
Flat - Lightly Textured
Edge
Sawn/ Straight
Sawn/ Straight
Sawn/ Straight
Power Consumption (Watts)
Max Flow (Litres)
Special Offer
Country of Manufacture
India
India
India
Delivery Type
Usually 5-7 working days
Usually 5-7 working days
Usually 5-7 working days
Product Attachments
Reviews