Marshalls Paving

Antique Sandstone 'Natural Stone Sawn Setts' Autumn Bronze

BLOCK PAVING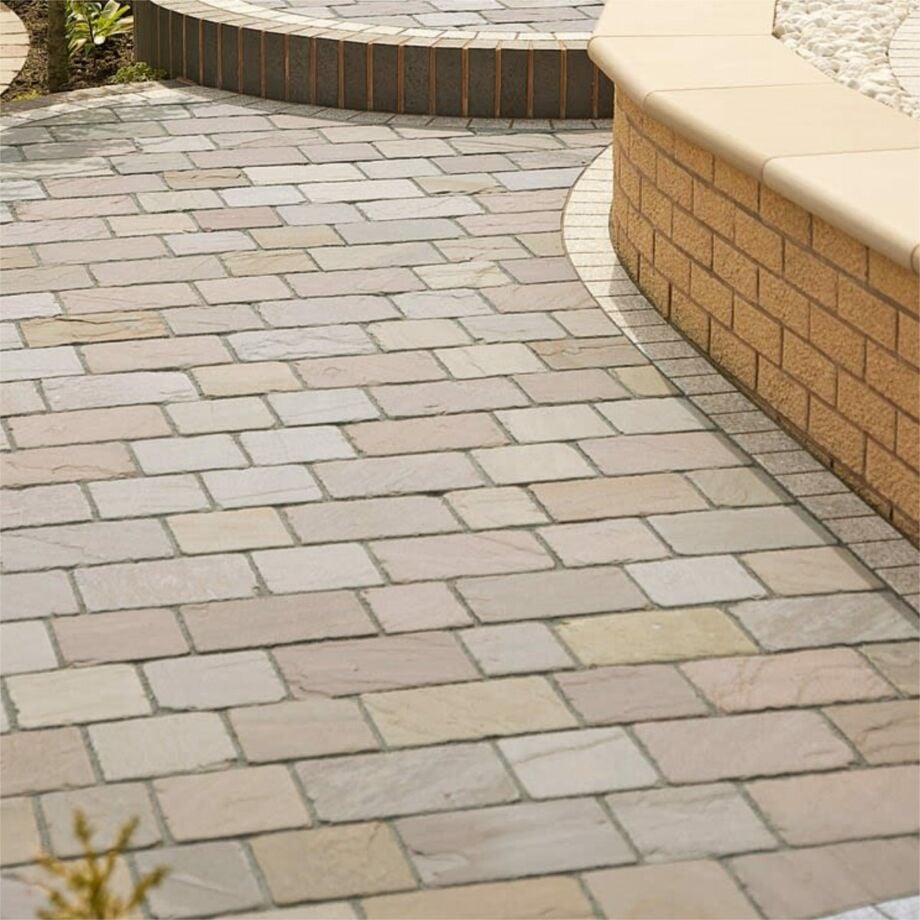 Split the pack
If you don't need a full pack of paving we can split a pack for you, give our team a call today or speak to them on live chat for more information.
Delivery Information
Free UK delivery to most areas. Next Day delivery available on many products.
Delivery Information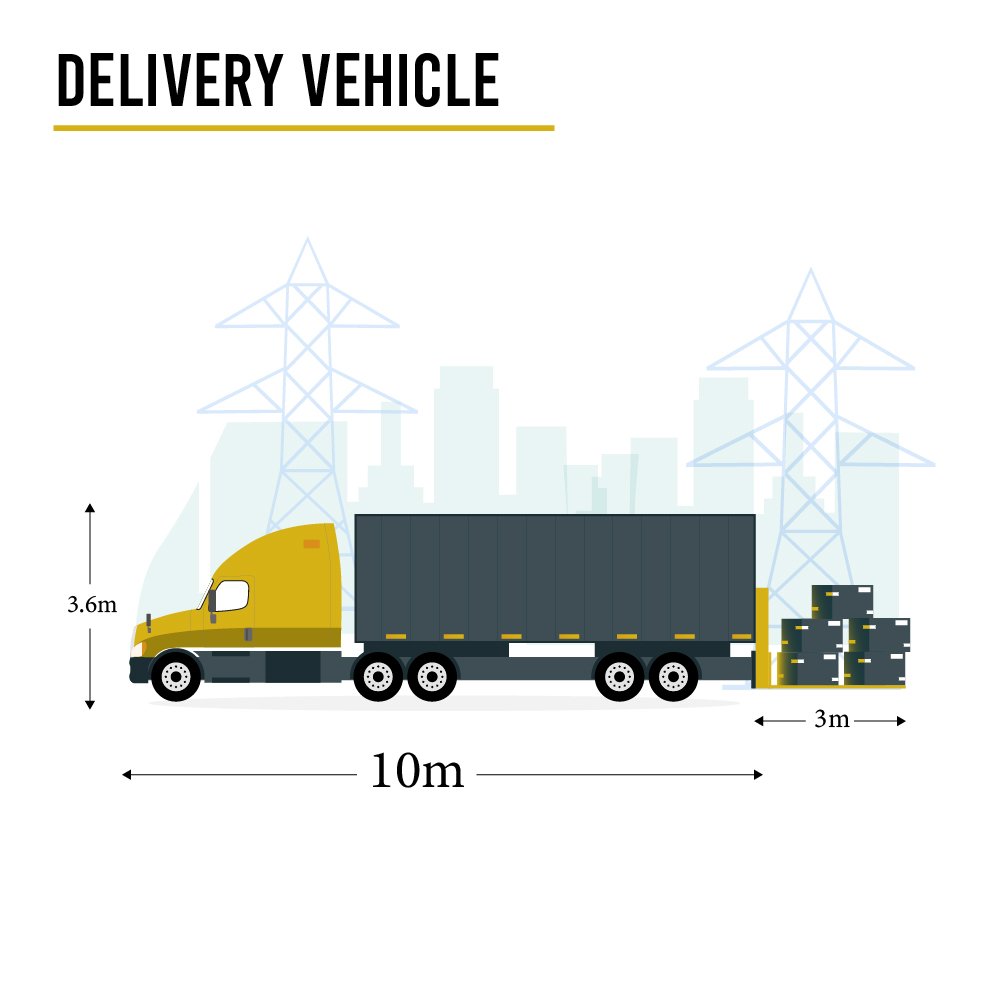 Delivery of heavy and bulky items such as paving, are delivered to kerbside on a large vehicle with tail-lift offloading. You MUST tell us at time of ordering if this vehicle is too large. We may occasionally be able to offer a smaller vehicle at extra cost on request.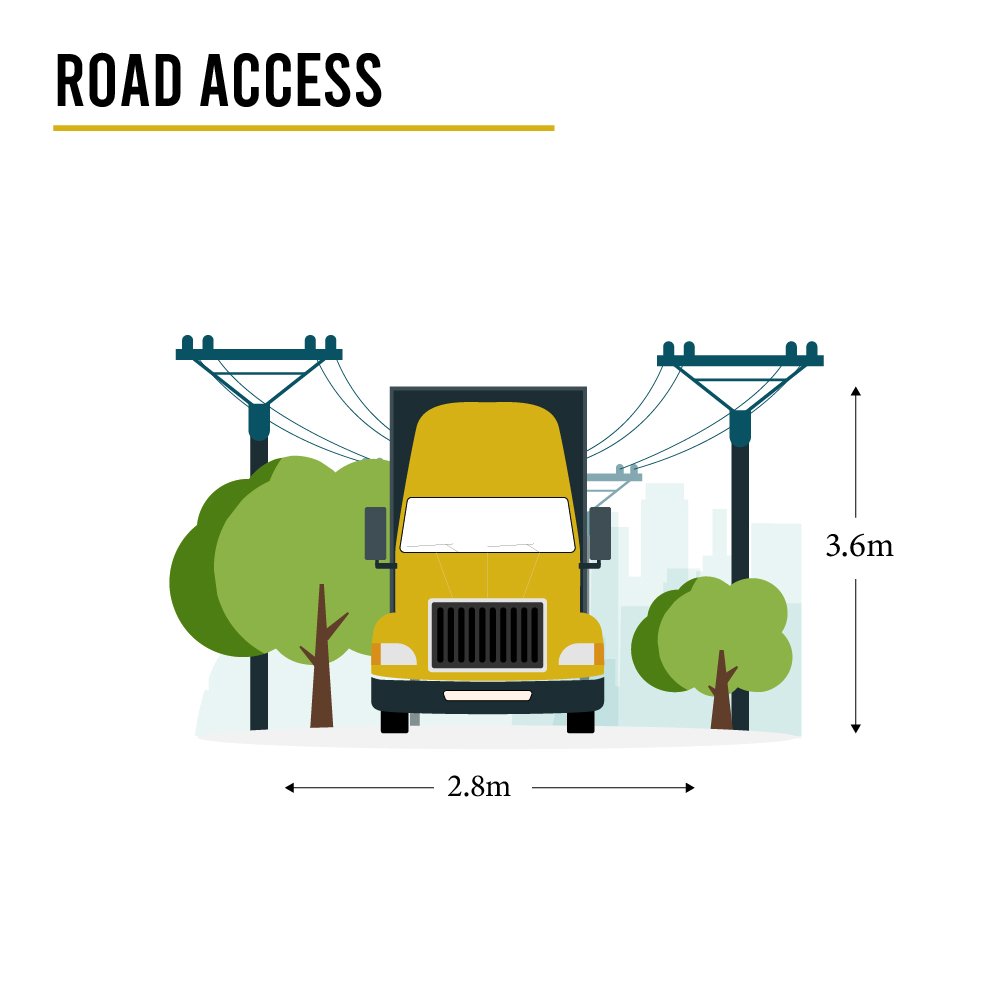 The roads to your address must have a hard surface and be accessible by a large delivery vehicle. The route and your delivery location must be free from obstacles such as overhanging trees or cables.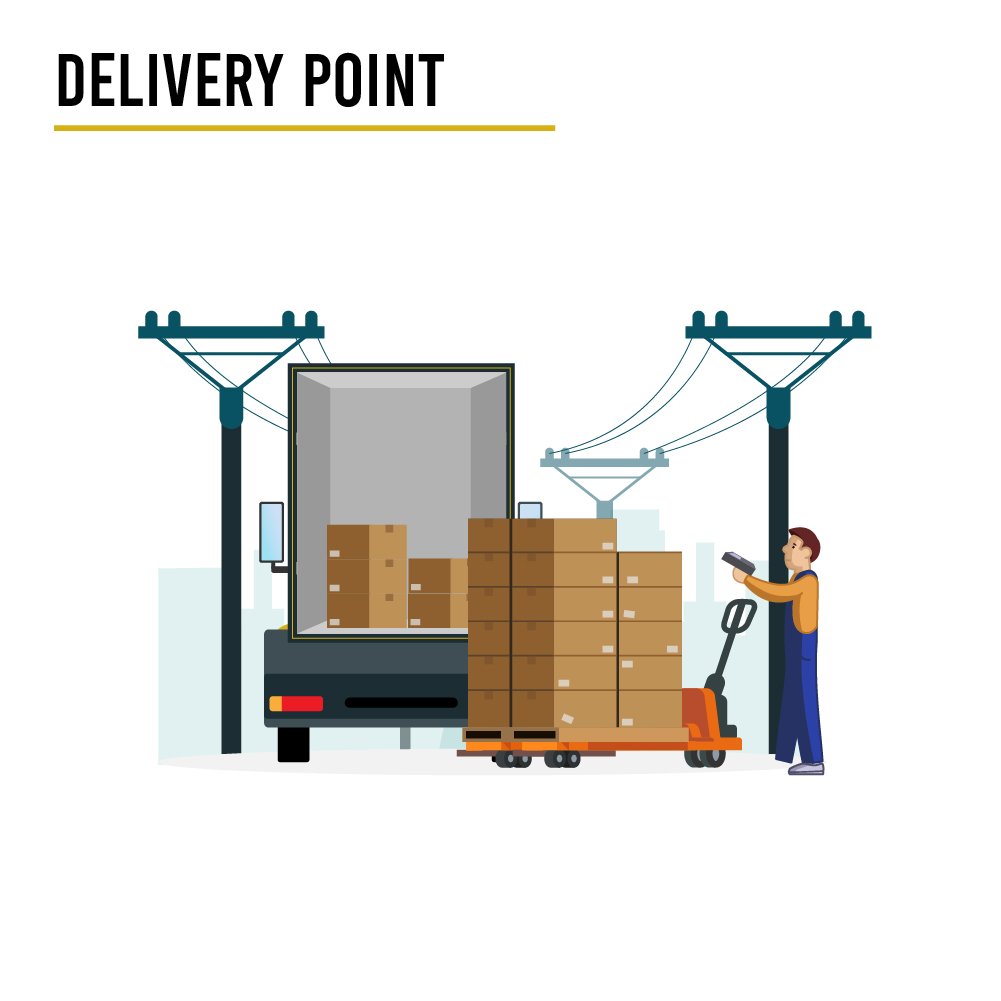 Your delivery point must be flat, level and a hard surface such as concrete or tarmac. Grass, earth and gravel are NOT suitable surfaces. Delivery is made to kerbside only using a manual pump truck.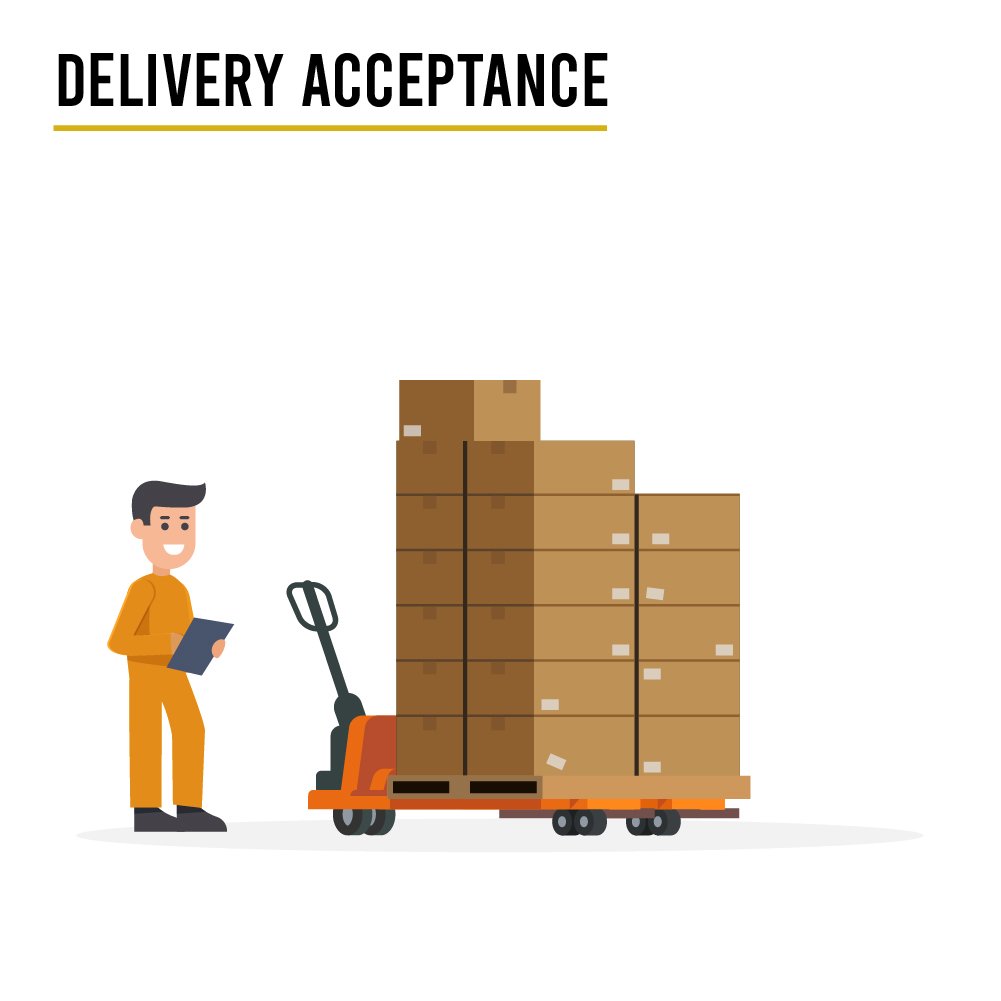 Inspect your goods upon delivery and record details of any obvious damages on the driver's documentation. In most cases, even if there are a few breakages, it is best to accept the delivery.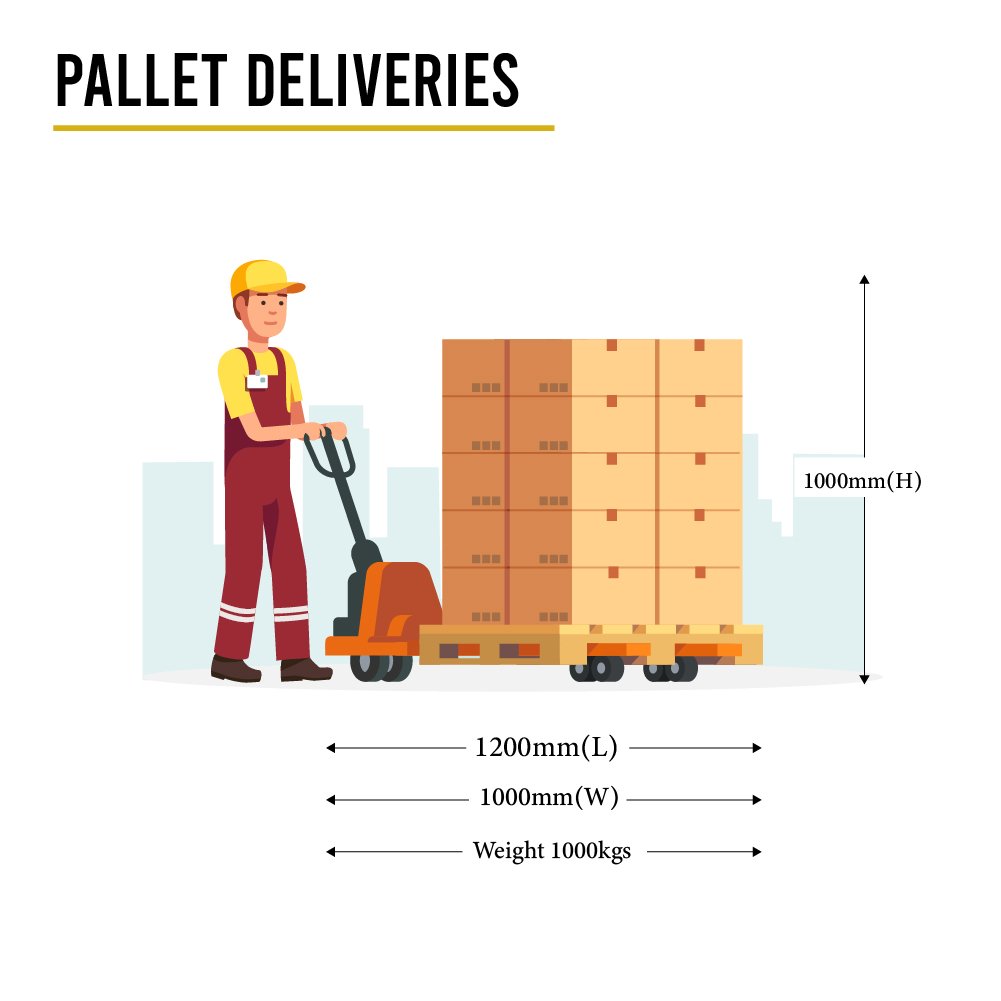 All paving pallets are heavy and sizeable. Once delivered, you will be responsible for moving the goods. Always ensure pallets are opened at the top, NOT the sides and remove the goods evenly from the centre of the pack to prevent tipping.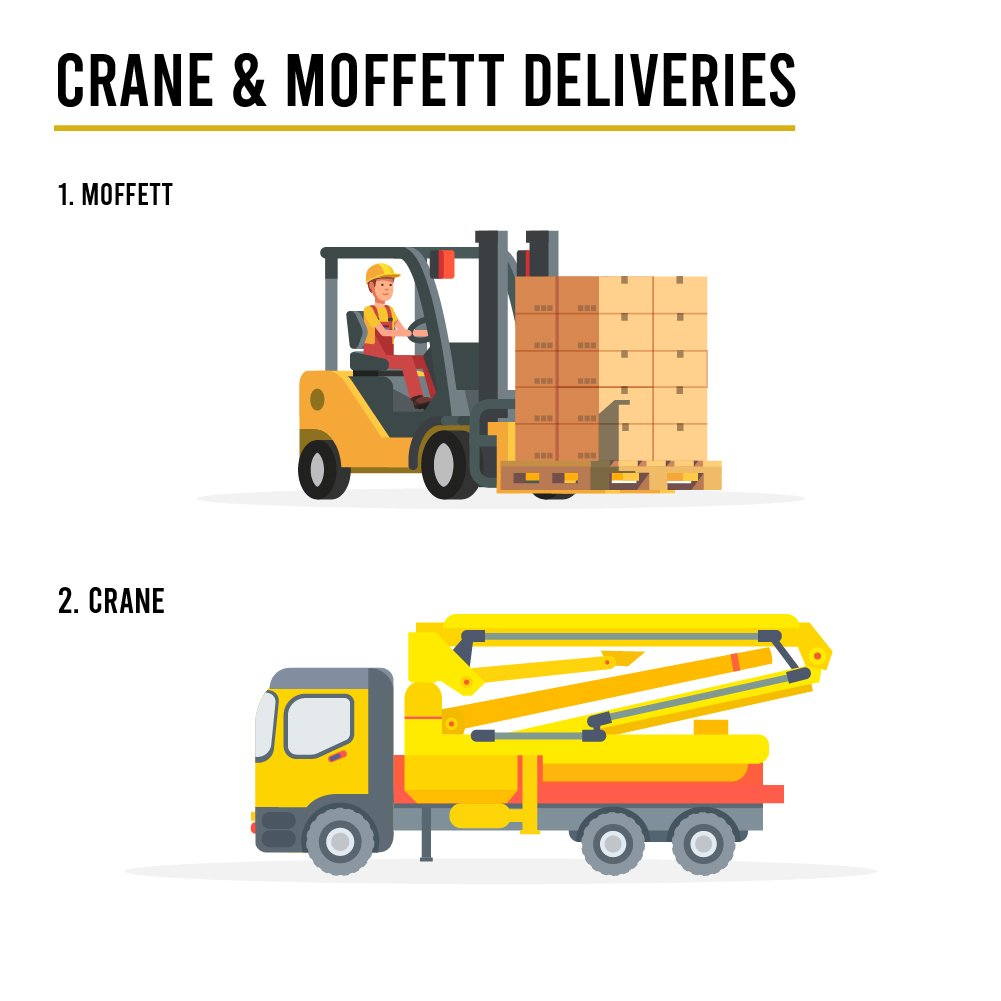 Although we do not use hi-ab (crane) or moffett (mini-forklift) deliveries as standard, we always attempt to upgrade larger orders to this type of vehicle when possible. Please contact us for further information.
Please contact us if you have any concerns regarding delivery. Refer to our contract terms for further details.
Do you charge for delivery?
Delivery charges are already included in the price of the goods to all of the areas shown in the YELLOW zone on the map. In the BLUE and RED zones, a top-up delivery surcharge applies on certain products.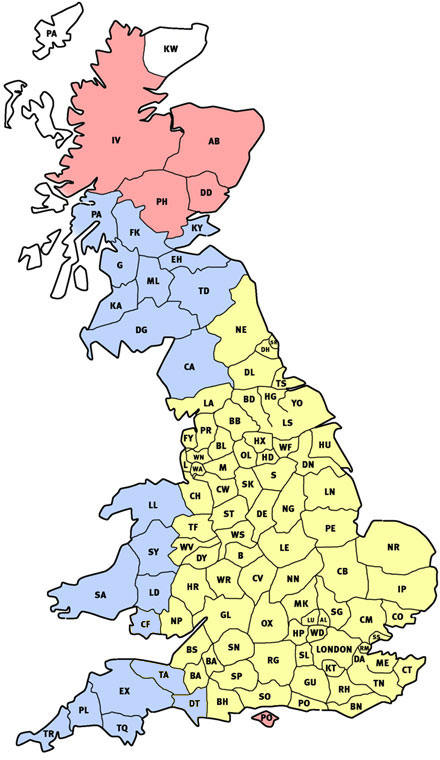 Yellow
Delivery included in price so no extra charges.
Postcodes: AL, B, BA, BB, BD, BH, BL, BN, BR, BS, CB, CH, CM, CO, CR, CT, CV, CW, DA, DE, DH, DL, DN, DY, E, EC, EN, FY, GL, GU, HA, HD, HG, HP, HR, HU, HX, IG, IP, KT, L, LA, LE, LN, LS, LU, M, ME, MK, NE, NP, NG, N, NN, NR, NW, OL, OX, PE, PO, PR, RG, RH, RM, S, SE, SG, SK, SL, SM, SN, SO, SP, SR, ST, SS, SW, TF, TN, TS, TW, UB, W, WA, WC, WD, WF, WN, WR, WS, WV, YO
Blue
Surcharge applies to some items. Usually £10 per paving pack, but will vary for other items
Postcodes: CA, CF, DG, DT, EH, EX, FK, G, KA, KY, LD, LL, ML, PL, SA, SY, TA, TD, TQ, TR
Red
Surcharge applies to most items. Usually £45 per paving pack, but will vary for other items
Postcodes: AB, DD, IV, PA (some exceptions apply)
Please contact us for prices to other areas. We would be pleased to quote on overseas deliveries if required.
How long does delivery take?
With most orders of paving, stone, composts, bark and rubber, delivery takes around 2-4 working days, based upon your order being placed before lunchtime on a working day.
Turf and sedum arrive the following day as the product is cut fresh on the morning of dispatch, so let us know when you need it and we will arrange to have the goods cut and delivered overnight to ensure they stay freshGarden buildings and structures range from around 7-30 working days.
All products on our website show an indicative delivery schedule, so it's best to refer to this for more product specific information.
Do you offer Express and Saturday deliveries?
Yes! We offer several different delivery options on most of our products to suit even the tightest of schedules!
Please find below the various options, their prices and the cut-off times for ordering:
Next day delivery
£20.00 per pallet
Order before 1030am the weekday before required delivery day (weekday deliveries only)
Pre booked delivery weekday
£2.00 per pallet
Order before 1030am at least two weekdays before required delivery day (weekday deliveries only)
Saturday delivery
£45.00 per pallet
Order before 1030am up to the Friday before delivery
Do you Guarantee Delivery Schedules?
Whilst we will make every effort to deliver in accordance with any booked delivery service and 99% of deliveries will arrive on time, we cannot guarantee a delivery schedule and any failure to deliver on a specified day or time will not be a breach of contract. Will will be unable to offer any compensation or cover any direct costs of delays by our third-party haulier. Do not arrange for your contractor or any equipment hire until your goods have arrived and been checked.
How will I know when the goods will arrive?
Unless you have already opted for a premium delivery on a specified day, we will make every effort to prebook all orders for large items with you once they reach your local delivery depot. You will only hear from the delivery company once your goods have travelled through the delivery network to arrive with the depot closest to you and this may take a couple of days following the day you placed your order.
Do not worry if you do not hear anything for a few days as the delivery day is usually only booked once the local depot to you commences scheduling.
Will I know the exact time of delivery?
Our trusted hauliers will usually deliver anytime between 8am and 6pm on your chosen delivery day. Some of our hauliers will provide tracking, however some of them do not, so unfortunately, we can never guarantee an exact time.
If you prefer, there is always the option to upgrade your delivery to an AM service, for an additional charge if this is more convenient for you.
Will I need to be at home to receive the delivery and will the driver require assistance?
Do I need to be in?
We do advise that you or a representative are on site upon arrival of delivery just in case the driver experiences any difficulties finding or accessing your property. This way the problem can quickly be resolved at the time instead of the driver potentially having to come back on a different day which will incur costly re-delivery charges.
In saying this, it is not mandatory that you are home for delivery and we can request your goods are left without signature if preferred. It is important to note however, that goods are left entirely at your own risk and we advise you to check your delivered items and report any problems to us as soon as possible, but within a maximum of 7 days. If the driver encounters any problems accessing your property or leaving the goods in a safe position whilst you are not at home, he/she may choose to abort the delivery and redelivery arrangements will be at your cost. In all cases, the driver will need to offload the goods from the vehicle quickly and soon after arriving at your property. Any delays preventing him/her from doing so will incur costs for waiting.
Will the driver require assistance?
More often than not, the driver will manage the delivery without a hitch. However in some circumstances, the driver will need assistance. For example:
Heavy pallets - On occasion, with natural stone paving especially, anticipated weights may vary due to the density of the stone and it may not be known in advance that goods are heavier than expected. However this is very unusual and occurs very infrequently. In these cases, the driver may need you to manually assist in taking some of the material off the pallet. Alternatively, if we have already alerted you on the website that goods are extra heavy, please ensure the stated advice for the specific product has been followed, for example, you may be asked to provide machinery on site or contact us for a specialist vehicle quotation.
Access restrictions - In the case that there are access restrictions, for example a car is blocking the dropped kerb where offload would need to take place, the driver may ask you to, if it is yours, move the vehicle, or contact the neighbour that it may belong to. If some of the roads leading to your property are not suitable for a large 18 tonne vehicle, please notify us of the directions the driver should take to gain access.
Directions - Sometimes the driver may need assistance in finding your property, so he/she may call you to ask for guidance. As mentioned above, being on hand to offer such information could well help avoid the driver needing to attempt redelivery on a different day, which will subsequently mean additional charges for yourself.
Will all goods arrive together?
As a general rule, all large goods produced by the same company/ brand will arrive as one delivery and goods from different companies will arrive separately. Small items such as sealants, paints and mortar products will always be sent out separately on a smaller courier service.
Don't panic though, if there are parts of your order that are due to come separately, we will always aim to let you know.
Should I Inspect the Goods Whilst the Driver Waits?
Yes, it is best to open the plastic wrap and examine the goods prior to signing your acceptance of them arriving in a satisfactory condition. If you have damages, ensure this is recorded on the driver's docket / device and report to us immediately. If you are unable to check the goods whilst the driver waits, please sign as 'possible damage'.
What happens if I have Breakages?
Due to the nature of the goods and the distance they have travelled, you may encounter a couple of broken slabs. In the majority of cases, these may be used for the smaller cut pieces you will need for your project. It is usual practice to allow 10% extra over and above your calculated requirements for the project and this allows for offcuts. In the majority of cases, any broken slabs will be part of this 10% calculation. If you have a large quantity of breakages, please notify us within 7 days following delivery via email and with clear photographic evidence, ideally showing the goods damaged within their packaging. We will look to replace or refund you for the damages.
Can I have the Goods delivered onto my Driveway?
As standard, your goods will be delivered kerbside (on the road adjaent to the kerb). The driver at his discretion and with your permission, may attempt to move the goods closer to your property. In all cases, the ground must be level and firm such as tarmac or concrete.
For larger orders it may be possible for delivery to be made on a vehicle with crane or mini-forklift which will often enable offloading onto your property. We will discuss this with you if it is a feasible option.
Do All Items Arrive on a Large Lorry?
No, smaller items such as jointing compound or sealer will come by a standard courier service van. Some items such as base aggregates (sharp sand, cement etc) will arrive on a vehicle with crane offload.
UKCA Standards and Ethical Trading
All paving certified to UKCA quality standards and ethically sourced.
What's Different about Paving Sold through Paving Superstore in Comparison to Other Websites?
All paving products sold by Paving Superstore are tested and conform to UKCA standards and hold a Declaration of Performance Certificate. This sets us aside from many other websites and guarantees you are buying a quality product designed to last. Let us tell you a bit more:
Leading Brand Paving from Paving Superstore
Paving Sold through Many Other Websites
Yes
Tested for water absorption
No
Not tested
Yes
Tested for frost resistance
No
Not tested
Yes
Tested for compression limits
No
Not tested
Yes
Tested for slip resistance
No
Not tested
Yes
Tested for bending breakpoint
No
Not tested
It is a legal requirement
Strict EU regulations were introduced in 2013 to ensure all paving sold in the UK meets the minimum standards set out under European standards EN1341 (flagstones), EN1342 (setts) and EN1343 (kerbs), however MOST companies selling paving online DO NOT adhere to these legal requirements as it is not heavily policed by Trading Standards. ALL paving products sold by Paving Superstore are manufactured by leading brands and DO meet these standards. All products are CE marked / UKCA / UKAS accredited. UKAS is the National Accreditation body for the United Kingdom appointed by the government to ensure products meet the high standards needed to attain certification. All products also hold a valid Declaration of Performance certificate which details the tests and results for each of the necessary criteria which guarantees you that the products we sell are fit for purpose.
Water Absorption (BS EN 13755)
Test Process
The water absorption test measures the amount of water a stone can hold when fully saturated. This is expressed as a percentage of the total weight. So, a result of 1% means that when fully saturated, 1% of a stone's weight will be water. As a guide, paving such as porcelain is usually less than 0.5% porosity, granite is around 0.5%, sandstone and limestone are in the region of 1-3% and concrete, 6%
Why is this important?
This is an indicator to how quickly stains will soak in and how quickly a stone will look dirty. The lower the number, the better it will deal with staining. Obviously other factors such as colour and texture will also play a part in the likelihood of staining. High levels of water absorption are also associated with increased algae growth which is known to be a problem with poor quality stone as this is often more porous as a result of it being an inferior standard.
Frost Resistance (BS EN 12371)
Test Process
Frost resistance testing is called the Freeze/ Thaw test and is conducted by repeatedly freezing the paving to -40 Fahrenheit and then thawing it, before repeating the cycle again. During this process the paving will lose some of its flexibility and the key to good quality paving is that it does not lose a high level of resilience during the test cycle. Losses in Mpa should not exceed 5 Mpa
Why is this important?
with very low temperatures. Paving which is overly porous will crack in frost and it is essential that paving is tested to the above standard to be sure it can cope in all weathers.
Bending Breakpoint (BS EN 12372)
Test Process
The 'flexural strength' test shows how much bending a paving unit can be put under before it breaks. This is an important test measurement for paving, but not really for setts or blocks as they are not large enough to bend. The test data is normally expressed in mega pascals (Mpa) with higher numbers being better. A typical measurement with sandstone is over 13 Mpa, concrete 5 Mpa and porcelain is often over 40 Mpa
Why is this important?
The flexural strength is important as it ensures the paving is not overly brittle which would cause difficulties when handling and laying.
Compression Limits (BS EN 1926
Test Process
The 'compressive strength' test shows how much a stone can be squashed before it breaks. This is most important for setts and blocks as these are often used on driveways. It's expressed in mega pascals (Mpa) with higher numbers being better.
Why is this important?
The compressive strength rating is important when deciding on stone suitable for a driveway or commercial setting where excessive weight will be applied to the paving. Paving that does not pass the required standard will not support any excessive loading.
Slip Resistance (BS EN 14231)
Test Process
Slip resistance testing is a complex and varied area however the two main tests for domestic paving are either the pendulum test (PTV) or the ramp test (R rating). With the pendulum test, a pendulum is swung over the surface of the stone which will slow it down. The rougher the surface, the more it will slow the pendulum and the higher the value (PTV). It is tested both wet and dry. The lowest permitted value for external use when wet is 36.
The ramp test (R rating) is often used for porcelain paving and this is conducted using a ramp which is gradually raised. Oil is applied to the ramp and a test person walks onto the ramp wearing boots. The measurement is taken from the point at which they slip. R11 is the rating usually applied to porcelain paving and this is equivalent to the value of 34 to 51 in the PTV test data (pendulum test value).
Why is this important?
Ensuring paving has good slip resistant qualities is important for outdoor usage, especially when used by children or elderly people. There is no point installing stone that does not meet the specified criteria for outdoor surfaces as it will be dangerous and not at all suited to purpose.
The following table shows the slip test data ratings for both test types and the recommended usage for paving conforming to each result.
| R Rating | Suitable for |
| --- | --- |
| R9 | Only for use indoors in areas where the floor is never wet |
| R10 | Typically for use indoors including areas that occasionally become wet, such as kitchens |
| R11 | Ideal for outdoor use including around swimming pools, internally in bathrooms, wet rooms |
| R12 | Ideal for outdoor use including around swimming pools, internally in bathrooms, wet rooms |
| PTV Rating | Slip potential |
| --- | --- |
| 0 to 24 | High slip potential |
| 25 to 35 | Moderate slip potential |
| Above 36 | Low slip potential |
Ethical Trading
Further to stringent test procedures, all paving sold through Paving Superstore is ethically sourced with all manufacturers belonging to the Ethical Trading Initiative or alternative schemes. This promises that:
employment is freely chosen
child labour will not be used
discrimination shall not be practised
living wages are paid
employees are treated respectfully and fairly
safe and hygienic working conditions are provided
working hours are not excessive
Please ensure you only buy ethically sourced natural stone
Product Description
Marshalls Natural Stone Sawn Setts are sawn with a tumbled surface to create a truly outstanding finish, suiatble for driveways as well as patios.
Autumn Bronze is a warm mix of brown, yellow, and pink tones.
Brand Information
For more than 120 years Marshalls has dovetailed creativity and imagination, designing elegant and practical hard landscping solutions to enhance individual homes in towns and cities across the UK. You can rest assured that the Marshalls products are not only the best quality, they are provided in the most sustainable and ethical way.
Material Information
Natural Stone Characteristics:
All natural stone products are unique and will vary in colour and texture, often showing distinctive markings, minor imperfections and may include mineral deposits such as iron and quartzite. Sizes are nominal and may vary. Some paving manufacturers include the pointing allowance in the individual slab sizes whereas others include the pointing allowance in the overall pack coverage. The product images shown are as accurate as photographic processes allow and may appear differently in accordance with lighting conditions and screen calibration in addition to the natural variation occurring between batches. Images may not be a true representation of a particular product size, use or laying pattern. Descriptions provided offer a combination of the manufacturer's and our own opinion of the product's characteristics and features.
Sandstone Description:
Sandstone is a type of sedimentary rock formed of gritty sand grains and is available in a variety of colours.
- Antique, Tumbled Sandstone Antique This style of sandstone has been through a secondary process to make it appear aged and weatherworn. This process smoothes the surface to provide a more gentle riven texture and slightly rounds the edges of the stone to give the appearance of a stone that is much older than it actually is making it suitable for period homes where a new stone would look out of place. It is often produced in a calibrated thickness where the variation in the thickness of the slab is kept to a minimum to simplify the laying process.
Sandstone Colours:
Sandstone is available in a wide range of colours, some subtle and some vivid. The ranges comprise of a selection of core colours combined with subtle contrasting shades, and the balance of shades can vary between batches of even the same stone due to different seams in the stone quarry occurring over time. The colour intensity increases when the paving is wet. Most brands offer the same range of colours with slightly different names. BE AWARE that not ALL natural stone is the same quality. Over 50% of stone sold on many other websites may not conform to British Standards and could crack during cold weather.
Specifications
Product Name
Marshalls Paving_Tumbled Sandstone 'Natural Stone Sawn Setts' Autumn Bronze-BLOCK PAVING, 210x110-50mm (10.33sqm)
SKU
NS3620200
Manufacturer
Country of Manufacture
Pack Contains
Pack Coverage
10.33
Unit Number
480
Colour
Autumn Bronze
Brand
Marshalls
Range
Driveway 50
Thickness
Calibrated, 50mm
Unit Size
210 x 110
Material
Sandstone
Surface
Uneven - Riven/Natural
Edge
Sawn/ Straight
Power Consumption (Watts)
Max Flow (Litres)
Special Offer
Country of Manufacture
India
Delivery Type
Usually 5-7 working days (tail-lift or hiab crane)
Product Attachments
Reviews

Live Chat!