Paving Superstore Pro Range

Granite 'Temple Tumbled' Yellow

SETTS

More products in this range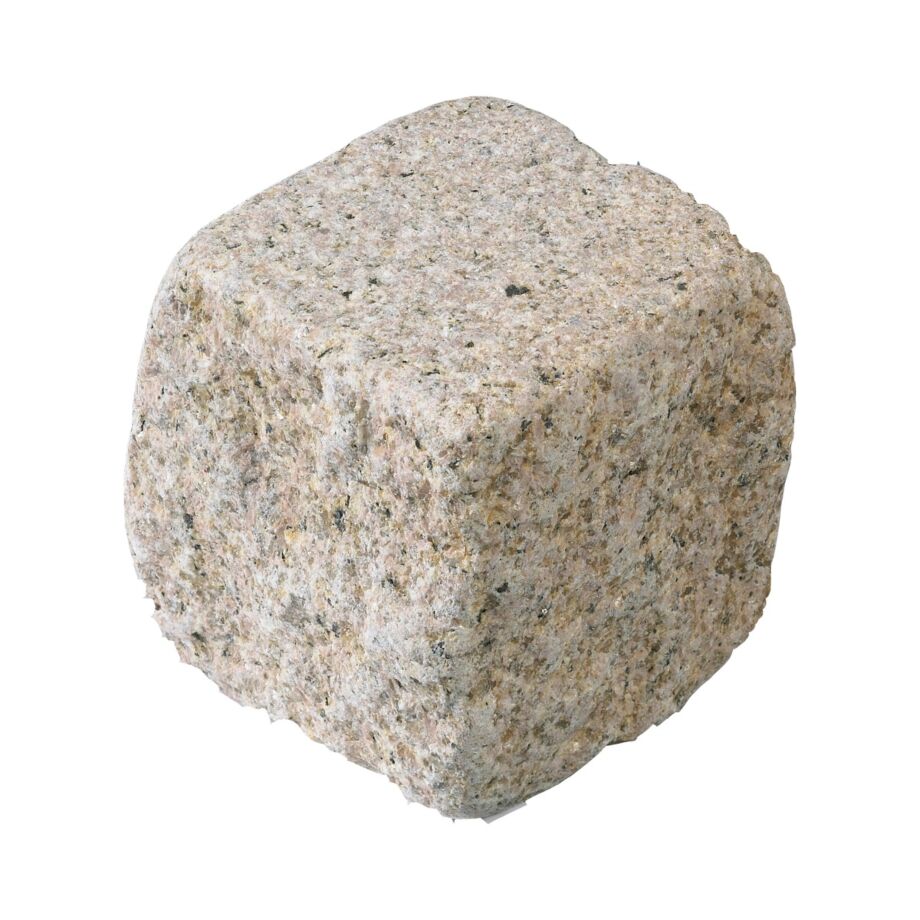 Split the pack
If you don't need a full pack of paving we can split a pack for you, give our team a call today or speak to them on live chat for more information.
Product Description
These setts have a handsplit finish Paving Superstore Pro Range granite paving has sawn sides with a sawn and bush-hammered top It is perfectly suited to contemporary style garden designs and areas where a hard-wearing paving stone is required Yellow colour has a flecked appearance in buttermilk yellow, buff, white and sparkling silver shades
Brand Information
Specialising in the supply of natural stone paving and facilitating the use of stone throughout the landscape and construction industries for 30 years, and now also offering many more products for garden and landscaping. Paving Superstore Pro Range products are sourced directly from the best producers in the UK and overseas. Much of our paving is used in commercial settings such as town centres, public parks and shopping malls, but is now available for use in the domestic market for beautiful gardens. Our buildings and garden features are built by experts offering high quality products that conform to safety regulations and expected standards. All aggregate conforms to BS EN933-1 in regards to sieve test dimensions. All paving is CE marked with relevant declaration of performance supporting documents to guarantee suitability in the UK
Material Information
Natural Stone Characteristics:
All natural stone products are unique and will vary in colour and texture, often showing distinctive markings, minor imperfections and may include mineral deposits such as iron and quartzite. Sizes are nominal and may vary. Some paving manufacturers include the pointing allowance in the individual slab sizes whereas others include the pointing allowance in the overall pack coverage. The product images shown are as accurate as photographic processes allow and may appear differently in accordance with lighting conditions and screen calibration in addition to the natural variation occurring between batches. Images may not be a true representation of a particular product size, use or laying pattern. Descriptions provided offer a combination of the manufacturer's and our own opinion of the product's characteristics and features.
Granite Description:
Granite is a coarse-grained igneous rock composed mainly of quartz and feldspar and usually can be pink to grey in color, however darker shades of red or lighter creamy shades can be seen, depending on its chemistry and mineralogy. Granite is a very hard wearing stone and tends to have a sparkle in sunlight due to the crystals formed during the volcanic heating and then cooling period. The surface is flat and even but is either bush hammered or flame textured to offer a non slip surface. It is often suited to contemporary style garden designs. Care should be taken when laying porcealin paving to lay it with the textured face uppermost. The underside is often smooth in appearance, but quite matte in finish with occasional machining marks. It is not only unsightly to lay paving with the underside uppermost, but also, will not meet the necessary slip resistance qualities of the material when used as paving.
Granite Colours:
Granite is available in colour options from very light silver grey, through to darker mid grey and eventaully to the basalt black, although various minerals during the melting period can create pink, red or even yellow granite. Compared to other natural stone materials, granite has relatively even colouring albeit with flecks of colour highlighting the mineral content. Granite works well when contrasting shades are combined, for example silver grey and black basalt.
Specifications
Product Name
Paving Superstore Pro Range_Granite 'Temple Tumbled' Yellow-SETTS, 100x100-100mm (4.5sqm)
SKU
24598-SG
Manufacturer
Country of Manufacture
Pack Contains
Pack Coverage
4.5
Unit Number
360
Colour
Yellow
Brand
Paving Superstore
Range
Thickness
Variable, 80-110mm
Unit Size
100 x 100
Material
Granite
Surface
Uneven - Tumbled
Edge
Tumbled/ Aged
Power Consumption (Watts)
Max Flow (Litres)
Special Offer
Country of Manufacture
China
Delivery Type
Usually 10-12 weeks
Product Attachments
Reviews